We are mid-week and I am hoping you have worked out once, drank a lot of water and had many positive thoughts about yourself. Even if you haven't, get right back on. Start now.
Get a cup of water.
Plan your workout.
Write down one of your favorite qualities about yourself and post it somewhere that you will see every day.
Keep your head up and keep going. There is no giving up this summer. We all get off track sometimes, BUT from now on, we are all going to get back on.
Enjoy the rest of the week and keep at it. THIS IS FOR YOU!
RECIPES TO TRY
Recipes:  Nut Butter, Chia and Banana Toast
(from "The Skinny Fork")
Such a yummy breakfast or snack idea.
1 Slice 100% Whole Grain Bread (I like TJ's sprouted 7 grain bread)
1 Tbsp. Sunbutter (or a type of peanut butter)
1/2 Medium Banana, Sliced
1/2 Tsp. Chia Seeds
You could also drizzle a bit of honey on top.
Kale Strawberry and Avocado Salad
(from Two Peas and Their Pod)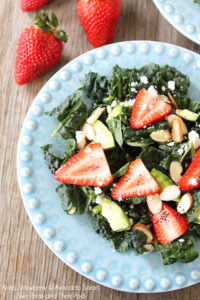 INGREDIENTS:
FOR THE SALAD:
4 cups chopped kale, stems removed
Pinch of sea salt
1 cup sliced strawberries
1 avocado, chopped
1/3 cup sliced almonds
1/4 cup feta cheese
FOR THE LEMON POPPY SEED DRESSING:
2 tablespoons olive oil
2 tablespoons fresh lemon juice
1 teaspoon honey
1/2 teaspoon poppy seeds
1/8 teaspoon salt
1/8 teaspoon freshly ground black pepper
DIRECTIONS:
Put the kale in a large bowl. Sprinkle a pinch of sea salt over the kale and massage the leaves with your hands until the leaves are darker in color and tender.
Add the strawberries, avocado, almonds, and feta cheese. Toss gently.
In a small jar, combine the olive oil, lemon juice, honey, poppy seeds, salt, and pepper. Shake until mixed well.
Pour the dressing over the salad and toss to coat. Serve.
INGREDIENTS:
1 cup bulgur wheat
1 cup water1/2 teaspoon salt
3 tablespoons fresh lemon juice
1/4 cup olive oil
1 clove garlic, finely minced
1/3 cup sliced scallions
2 cups chopped tomatoes
1 1/2 cups chopped cucumbers
1 cup chopped fresh parsley
1/2 cup chopped fresh mint
Salt and fresh ground black pepper, to taste
DIRECTIONS:
1. Place the bulgur wheat in a large bowl. Bring the water to a boil and stir in the salt. Pour the water over the bulgur. Let it sit for 30 minutes, or until all of the water is absorbed.
2. While the bulgur is soaking, whisk together the lemon juice and olive oil in a small bowl. Add in the minced garlic and whisk again. Pour the dressing over the bulgur and stir.
3. Add in the scallions, tomatoes, cucumbers, parsley, and mint. Stir until combined. Season with salt and pepper, to taste.
Note-this salad will keep in the refrigerator for several days.
ENJOY!!
Hi I'm Kelley. I thought I had it all figured out but I struggled to learn that feeling our best is about nurturing our WHOLE SELF, not just fitness, and not just good nutrition but more. Read my story.