The Daily Surrender Journal is a 12-week journal with a theme of helping us to surrender our worries and fears to God, and finding peace in the midst of it all. The journal gives you daily prompts for gratitude, health, intentions and more. The focus of the journal is to help us let go of what we can't control, and deepen our trust in God, especially when it feels dark. It will help create a morning routine to start your day with a Bible verse, daily affirmation, and encouragement.
I Created My Daily Morning Routine Around This Journal Practice and Here's What Happened…
More Clarity and Less Worry
Let Go of What I Can't Control
Closer Relationship with God
Able to Hear and Feel God Working in Me
Progress on My Projects and Dreams
Able to Move Through Daily Challenges Easier
Let Go of Frustrations Easier
I love the journal. It keeps me from feeling overwhelmed and wondering where to start and I love to go back and re-read my bible study notes. It goes everywhere with me.
Transform Your Days in 12 Weeks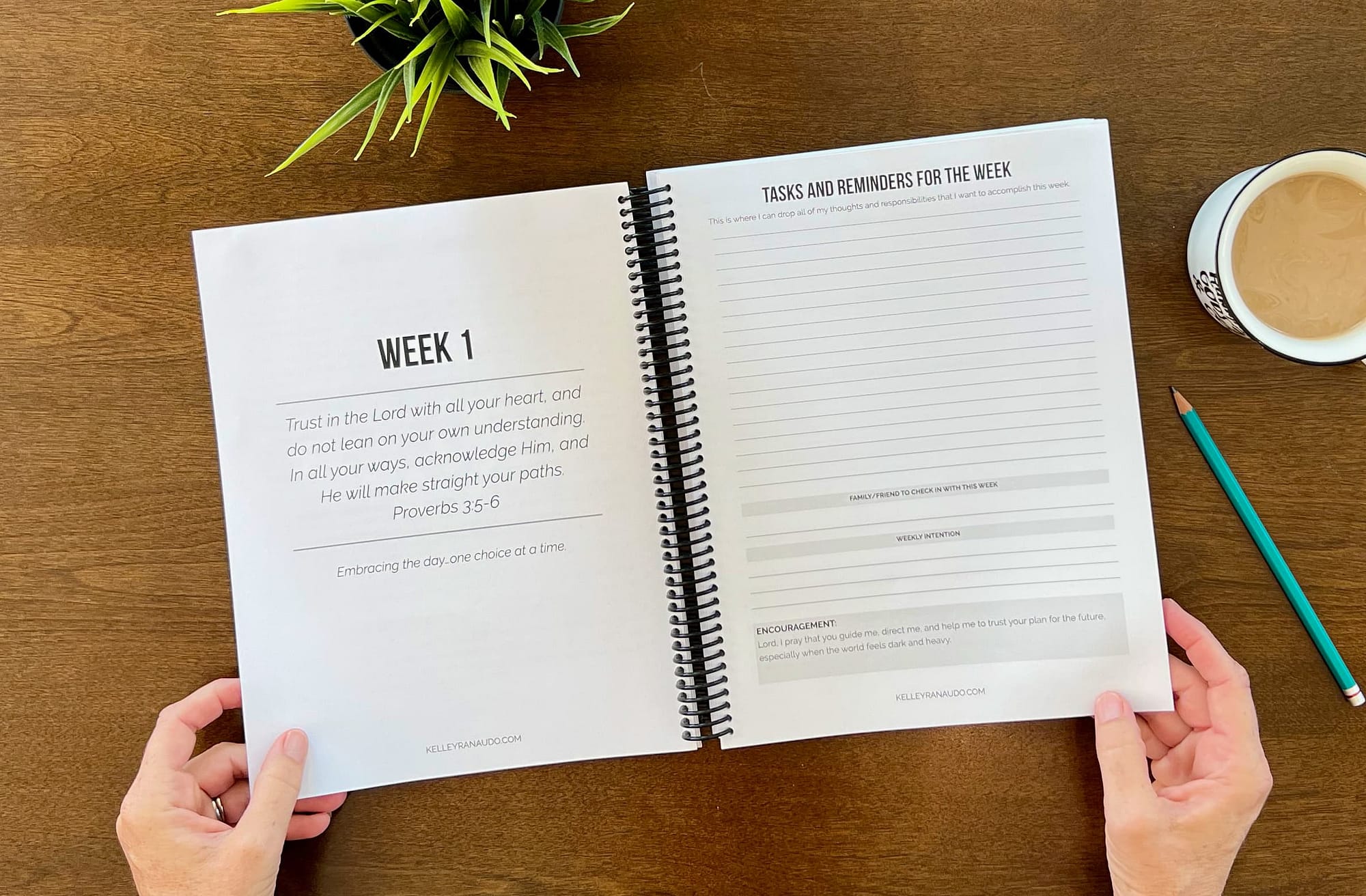 Start Your Week Off Feeling More Confident
Unload all of your thoughts for the week.
Mind is free and has more clarity to start the week
Set up your "Intention" for the week.
Weekly verse and encouragement to lift you up before the week gets going.
Start with 3 things you are grateful for today.
Choose a few simple tasks to focus on today.
Think about what you can do for self-care every day.
Keep hope alive every day by writing your dreams.
Write your weekly intention daily.
Journal your Bible verse and fill your mind with uplifting encouragement.
Take Time to Reflect Every 4 Weeks
Time to celebrate every bit of progress you have made
Learn what helped you through challenges
Reflect on what improves the flow of your day and what drains you
Think about what you want to be more intentional about in the coming weeks