Gain Clarity and Become Empowered 
HERE'S WHAT'S IN IT FOR YOU
Take Ownership of Your Choices and
Feel Less Stress
This is improving our mindset and gaining confidence in who we are and what we are living for.
It is shifting our habits, one at a time, to improve the health of our mind, our days, and our overall well-being.
Living life changes when we actually fill our heart, and learn how to stir our soul, improve our mindset and perspective.
"The goal of this community is to empower, encourage, and support you in living well every single day by giving you simple choices to shift your energy and mindset. We want you to take ownership of your habits and your life, become healthier and stronger, with a community to help you feel connected and less alone in your journey."
– Kelley Ranaudo
Here's All The Goodies You Will Get
Gain a Community for Accountability, Encouragement, Support and Connection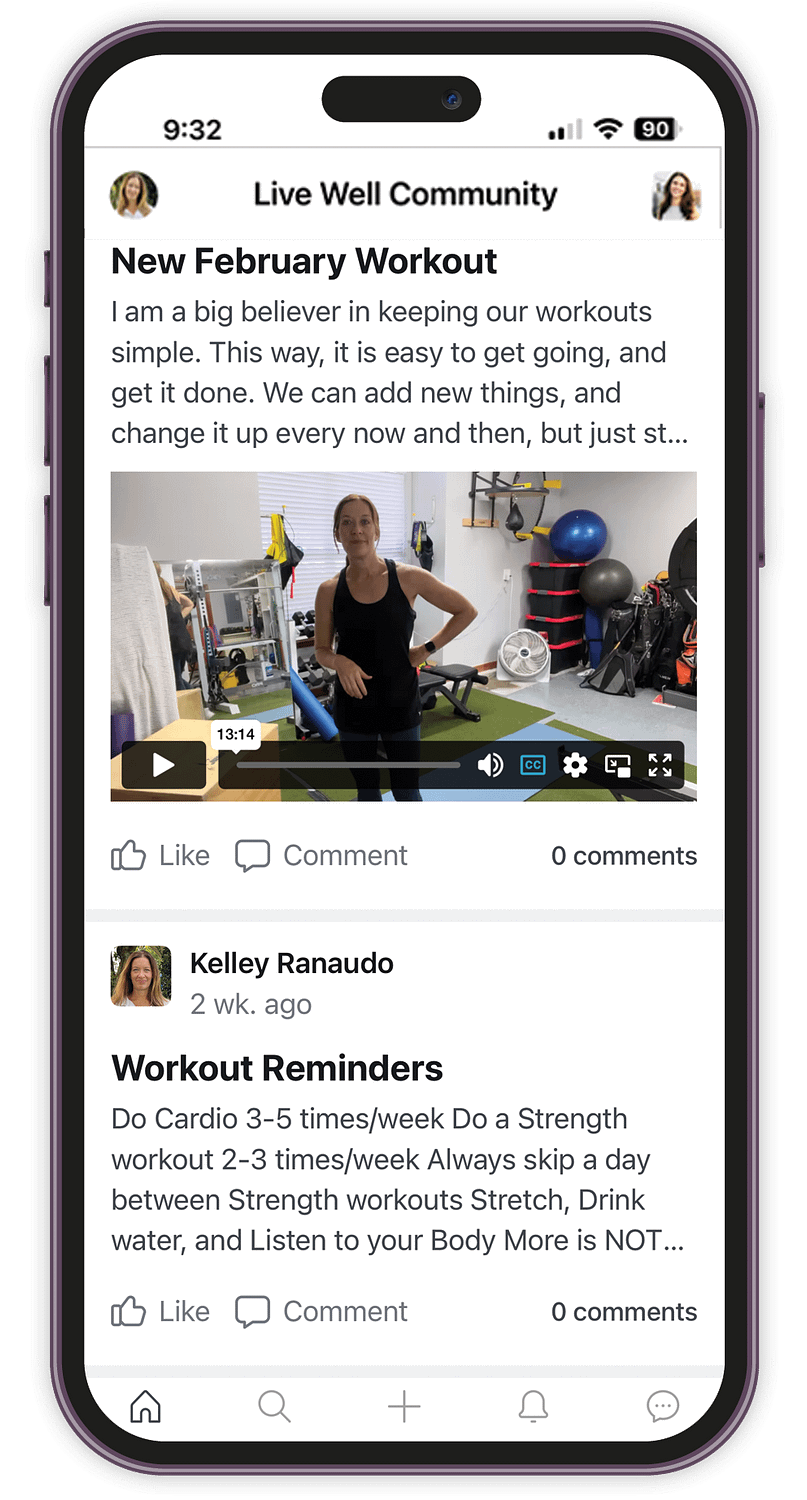 New Seminar monthly on awareness, gut health, boundaries, mindset, distractions and more
Weekly Intention Challenge
Weekly Devotion
Daily Encouragement, Prayers & Bible Verse
Daily Habits for a better mindset added monthly
New Ideas every month for Workouts and Fitness
Simple new recipes monthly

Wellness tips for your everyday life added monthly

Q & A anytime with support and encouragement
Downloads for everyday inspiration added monthly
Simple tips, shifts, and tools to change your life
Available on an App as well

Access to all courses and future courses
"Together, let's challenge our minds, nurture our hearts, and stir our souls to gain more clarity, confidence, and courage to truly start living well. It is time to take responsibility for our health, our minds, and our relationships. Let us become more aware, confident, and inspired in all of our choices. It is time to just feel better in this chaotic world."
– Kelley Ranaudo
Also included…The Value of the Vessel 4 Week Course
Discover What is in Your Way, Making You Feel Overwhelmed Or Draining Your Energy.
This course is about taking care of ourselves, not only in terms of health and exercise, but protecting our heart and souls, and what takes up root in our minds. Our vessel includes our emotional, physical, spiritual and mental health. Learn how to handle the daily distractions trying to keep us from our best selves. Let us learn that it is necessary and kind to say no, and set healthy boundaries for ourselves and our relationships.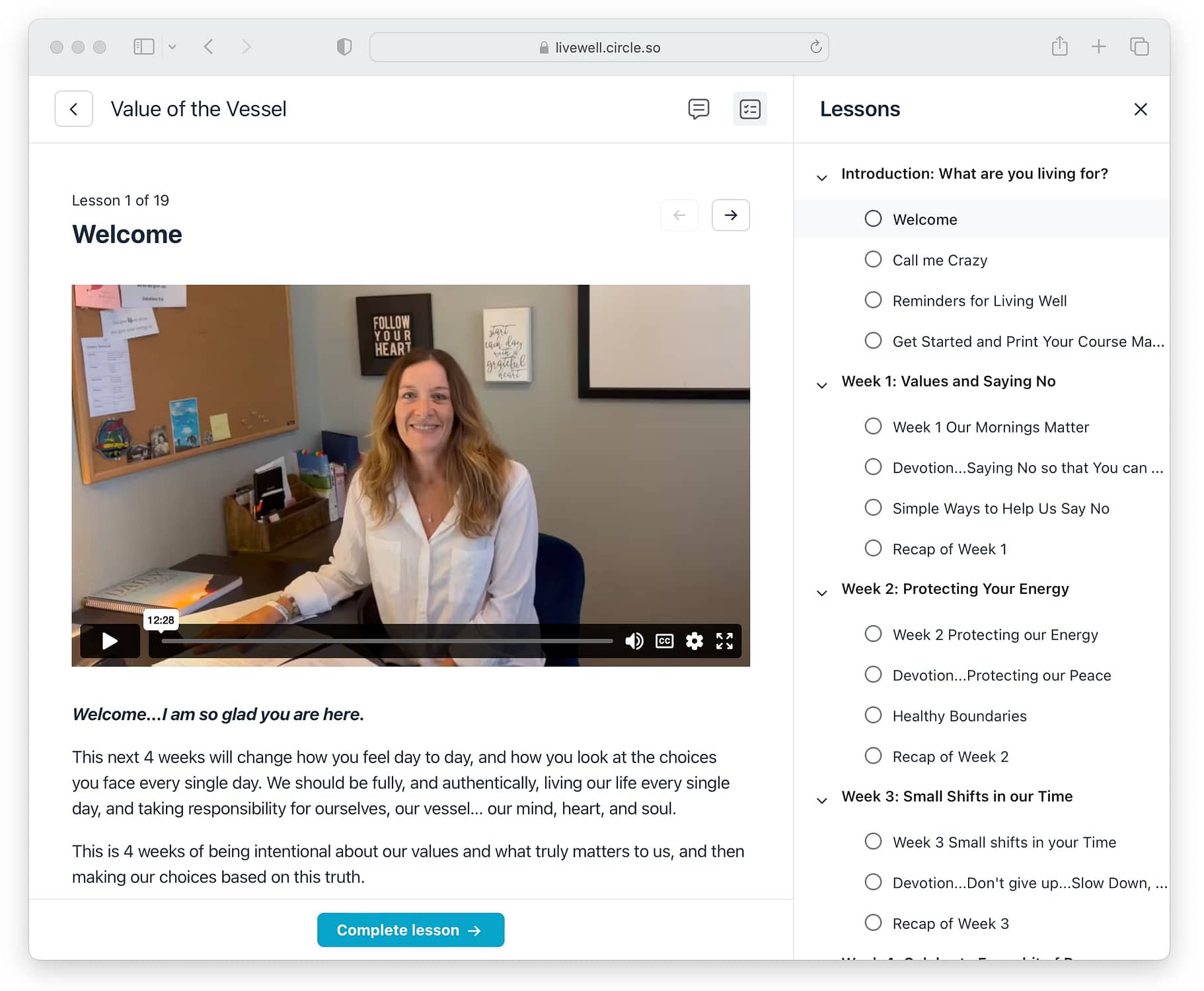 Frequently Asked Questions
What is the Live Well Community? The Live Well Community is a supportive online community designed to empower you to choose well every day. This community provides tools, resources, and support to help members overcome challenges, develop new habits, and live their best life.
Who can join the Live Well Community? The community is geared toward women and moms that are looking to improve their overall well-being and quality of life. 
What benefits do members receive? More Hope, more JOY, more Happiness, and More Calm in your days. With consistency, you will also have more confidence, clarity, and courage in every decision you make. Along with all that…Members of the Live Well Community receive access to exclusive content, resources, and tools designed to help them achieve their goals and improve their overall well-being. Additionally, members can connect with other like-minded individuals and participate in community discussions and activities.
How often are new resources and content added to the community? New resources and content is added daily, weekly, and monthly to the Live Well Community to ensure that members have access to the latest information and tools to help them achieve their goals.
Is the Live Well Community a subscription-based service? Yes, the Live Well Community is a subscription-based service. Members are required to sign up for a monthly membership in order to access the community and its resources.
When will I be billed monthly? You will be billed every month on the day of the month that you originally paid.
Is it easy to cancel if I need to? You can cancel any time you want by sending an email to info@ranaudo.com. Please give a 7 day notice before your regular billing day, to give us time to cancel your account.